read about the plum island preservation project here
Connect to preserveplumisland.com here
download the NY Natural heritage program report on plum Island diversity here
Mike's BOOKS:
Ruth Formanek and Mike Bottini have collaborated on an elegant, profusely illustrated, guide to "East Hampton's Hidden Treasure," the Walking Dunes. Mike takes us on a guided tour of the flora and fauna of one of Long Island's most special places.
The most comprehensive guide to kayaking and canoeing on the East End of Long Island, Mike Bottini's long-awaited Exploring East End Waters is based on his award-winning column in The Southampton Press.
The first comprehensive guide to trails of the South Fork. For more than ten years the Group for the South Fork has been working with the East Hampton Trails Preservation Society and the Southampton Trails Preservation Society to preserve and define the trails, ancient and new, of the South Fork of Long Island.
All Mike'S books are also available in Kindle, IBOOK, Nook, and other eBook formats.
Citizen Science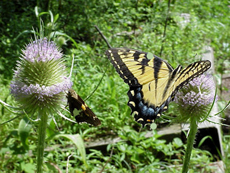 Learn how you can contribute to ongoing nature studies here.
---